CONTRIBUTE TO OUR VOLUNTEER PROGRAM

The Horus Institute organizes monthly volunteer activities to restore natural areas from pine invasion in Florianopolis, Santa Catarina, Brazil. Sand scrub vegetation is highly impacted by pines, which displace native plants, use too much water, and change the structure of vegetation.
Chainsaw operators are now necessary to cut down larger trees that are beginning to produce cones and seeds. A financial campaign is in place for funds that will avoid a new seed bank from establishing in these areas, containing the invasion from aggravating in the future.

If you wish to contribute please click here to send us a message.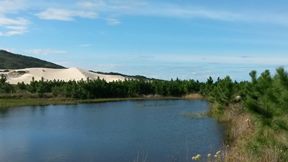 Access to the I3N website:

LATIN AMERICAN NETWORK FOR THE STUDY OF INVASIVE SPECIES
NEW PAGE
Published bulletins until June, 2015