THE HORUS INSTITUTE CELEBRATES 15 YEARS OF ACTIVITIES AND ACHIEVEMENTS
The Horus Institute has just completed 15 years of existence, with a significant amount of work to show:
- development and maintenance of the Brazil National Database on Invasive Alien Species, which currently has 443 species with data sent by 1096 registered collaborators
- work with Ministries of Environment in more than 20 countries in Latin America and the Caribbean
- our volunteering program since 2010 accounts for 240,000 pines eliminated from the Lagoa da Conceição Dunes Municipal Park
- capacity building provided for management of invasive alien species in 10 Brazilian states
- fellowship with Ashoka Social Entrepreneurs
- participation in numerous scientific events and published articles on invasive alien species.
THANK YOU TO ALL WHO HAVE WORKED OR COLLABORATED WITH US!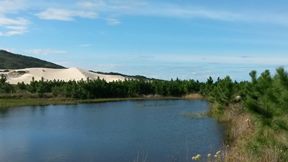 NEW: CROWD FUNDING CAMPAIGN FOR RESTORATION WORK AT THE DUNAS DA LAGOA DA CONCEIÇÃO MUNICIPAL PARK, FLORIANOPOLIS - SC, BRAZIL

youtube channel - see our videos!